Use  Castor oil to deep cleanse your skin? That's right!
Think castor oil is just for medicinal use? NO!
It's always a challenge to find a natural skin solution that works, and won't break the bank. Searching for something that works for you can leave quite a dent in your wallet, especially when it's a case of too many trial and errors.. Don't worry, Bellabaci is here to help!
The medium you use with your Bellabaci Face Cup can make all the difference to give you that extra soft and hydrated feel. The oil-cleansing method will do just that, and eliminate toxic, unnecessary chemicals from your beauty regime.
The oil-cleansing method involves washing your face with, well, oil.  Most facial cleansers claim to be "oil-free" and the beauty industry has certainly taught us that "oil-free" make-up and cleansers are the way to go.
The problem with that is when our skin is stripped of its natural oils, it produces more oil to compensate.  For those with oily skin, this means more breakouts, blackheads, and aggravated skin.  For those with dry skin or sensitive skin, it means the skin is going to get even drier and irritated.
Basic chemistry teaches us that: like dissolves like.  Therefore, oil dissolves oil. The oil cleansing method is using oil to naturally dissolve the oils and debris on our skin without stripping it or using harsh chemicals. Not only is it super simple, affordable, and better for your skin, but here's the best part: the oil-cleansing method is the best make-up remover ever.  It removes mascara, eyeliner, foundation, everything – all in one step!  Yes, you can do your happy dance now.
The key to the oil-cleansing method is castor oil which comes from the castor bean.  Castor oil is a great antibacterial and is the best for cleaning skin.  Depending on your skin type, you will want to use a different ratio of castor oil to other oils.  Other oils to use include olive (which is perfect for all skin types), jojoba (all skin types), avocado (best for drier skin), and almond oil (best for oily skin). Experiment and see what works best for you.
Why Would You Want to Use the Castor Oil cleansing method??
1) It can help clear up acne and balance your oil secretion.
2) It's all natural, so no extra chemicals.
3) Face wash and makeup remover in one!
4) Since it's oil, it won't strip your skin of its natural oils (once again helps with the dryness)
5) Works as a moisturizer as well! If you use this method, your skin may feel hydrated enough. Remember to still put on your sunscreen!
How to Use the Oil Cleansing Method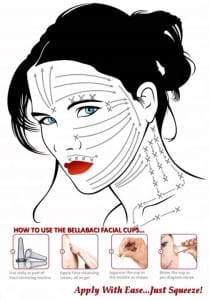 1) Choose your oil combo. (see below for list)
2) Apply onto dry skin, about a teaspoon-full will do.
3) Follow the Bellabaci Facial Massage sequence for 2 to 5 minutes
4) Use a washcloth wet with hot (not too hot) water, squeeze out excess water and place on your face. You are essentially steaming your face.
5) Gently wipe off the oil.
6) Rinse off washcloth and wipe off face one more time to remove any excess oil.
7) Gently pat dry. If your skin feels dry, you can change your oil ratio to better suit your skin. Your skin should never feel tight after an oil cleanse.
And Voila! You are done. OCM can be done morning and evening or just evening. Don't forget to quickly wash your Facial cup with a liquid soap after each use!
What Oils to Use with the castor oil and How Much?
Oil Choices
Jojoba – all skin types, acne prone skin
Apricot Kernel – normal, dry, aging skin
Sunflower Seed – all skin types
Avocado – aging, dry skin
Grapeseed – all skin types, oily
Sweet Almond – all skin types and oily skin
Olive – all skin types, dry
Coconut – all skin types, dry, aging
TOP TIP: Castor oil is used because it's a great cleanser and anti-bacterial. However, since it's also a drying oil there are different ratios for oily, normal, and dry skin types. Please note that these ratios are just a starting point. Odds are that the ratio you choose based on skin type will work for you but if it doesn't then make some adjustments to the ratios. Just remember that more castor oil equals more drying.
OCM Ratios:
Dry Skin: 1 part castor oil, 2 parts oil of choice
Normal Skin: 1 part castor oil, 1 part oil of choice
Oily Skin: 2 parts castor oil, 1 part oil of choice.
PS: Don't have your own set of Bellabaci Body and Face Cups yet? Join the Cupping Revolution and get yours by clicking HERE