Treating Cellulite effectively is one thing, but waiting for results to become visible can feel like it's taking forever. When we start to do something to tackle this lumpy problem, all reason flies out the window and we expect great results, now!No wonder we then think our cellulite product isn't working..
The wrong expectation can throw a spanner in your cellulite-busting wheel due the fact that our impatience can cause us to not see the treatment through. We then either hop from one cellulite product to another and spend millions or decide to never wear anything less than a tracksuit, ever again.
If you have found The Bellabaci Cellulite Be Gone Kit, you can rest assured that you have found the cellulite product solution, to treat it successfully. What needs to be taken into consideration is that there is no miracle, instant cure, (although the Bellabaci Cellulite products works pretty fast!) and there are certain things that need to happen in your body before the real visible result are revealed.
Don't lose heart, expect the following, see it through and you will have those dimple-free thighs you've been dreaming about!
• Your skin needs a minimum of 3 skin cell turnovers to show results that will be visible when comparing before and after pictures.
• We forget how bad the problem was – When you see yourself every day in the mirror, you become extra critical and it is then harder to spot progress when we zoom in with a negative microscope. Be real. Take before pictures, measurements and ask a friend to help you track your progress. You will soon see that visible results started long before you even realized when you use The Bellabaci Cellulite Be Gone solution.
• Take into consideration how long your cellulite has been there. If it's stage 3, you can't expect it to be gone overnight. A 6 week waiting period is fair for even the most stubborn cellulite with Bellabaci. Just think, 6 weeks from now you will be looking a whole lot better if you keep at it!
• We don't make the necessary changes to our diet and lifestyles. Although your Cellulite Be Gone Kit will still yield results, if you are constantly throwing more wood on the fire, your results will not be as great as it could have been. So, cut down on the coffee, drink your 2-3 liters of water per day for elimination, add fresh fruit and veggies and try to start with some gentle exercise like a 20 minute stroll around the block 2-3 times per week! It's you who will reap the benefits, and you owe it to yourself to live healthy and look and feel great!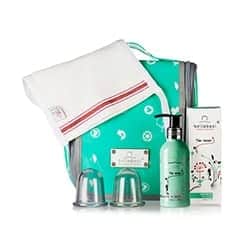 • The product won't work if they are just sitting on the shelf! Use your kit daily, even if you just apply your Cellulite Be Gone Genie because if you have no time for cupping today, you are still fighting your cellulite with the gloves off! Speaking of gloves, don't forget your Kese mitt! This magic exfoliator will stimulate your micro-circulation, aiding toxin elimination and leave your skin silky smooth. You may even feel inspired to grab your cups for the recommended 10 minute session!
Stay positive, Bellabaci has come to the rescue. You just need to let it work its' magic!
PS: Need to top up on your Bellabaci Products? Visit our online store HERE and get free shipping as our gift back to you!
Happy Cupping!