Fibromyalgia is a disorder characterized by widespread musculoskeletal pain accompanied by fatigue, sleep, memory and mood issues. Researchers believe that fibromyalgia amplifies painful sensations by affecting the way your brain processes pain signals.
Symptoms sometimes begin after a physical trauma, surgery, infection or significant psychological stress. In other cases, symptoms gradually accumulate over time with no single triggering event.
Women are more likely to develop fibromyalgia than are men. Many people who have fibromyalgia also have tension headaches, temporomandibular joint (TMJ) disorders, irritable bowel syndrome, anxiety, and depression.
While there is no cure for  fibromyalgia, a variety of medications can help control symptoms. Exercise, relaxation and stress-reduction measures also may help. You can also try our natural and effective Bellabaci Cupping Therapy products.
https://youtu.be/l5uJcWqWGw8
Symptoms of fibromyalgia include:
Widespread pain
The pain associated with fibromyalgia often is described as a constant dull ache that has lasted for at least three months. To be considered widespread, the pain must occur on both sides of your body and above and below your waist.
Fatigue
People with fibromyalgia often awaken tired, even though they report sleeping for long periods of time. Sleep is often disrupted by pain, and many patients with fibromyalgia have other sleep disorders, such as restless legs syndrome and sleep apnea.
Cognitive difficulties


A symptom commonly referred to as "fibro fog" impairs the ability to focus, pay attention and concentrate on mental tasks.
Fibromyalgia often coexists with other painful conditions, such as:

Irritable bowel syndrome

Migraine and other types of headaches

Interstitial cystitis or painful bladder syndrome

Temporomandibular joint disorders
How does Cupping help reduce Fibromyalgia?
Bellabaci Cupping therapy allows patients to get the relief they need naturally while posing zero to little risks or side effects compared to more traditional medicinal treatments.
Independent studies completed prove that the natural treatment of cupping therapy is just as, if not more, effective compared to more traditional treatments. The most recent study regarding the effect of cupping therapy on fibromyalgia patients was performed in 2011, according to Mayo Clinic.
The study was performed in Beijing with 30 consecutive patients suffering from symptoms of fibromyalgia, including generalized chronic pain. The patients received a traditional cupping treatment every day for 15 days and the intensity of their symptoms prior to starting treatment and 5, 10, 15 days, and 2 weeks following the final treatment. Findings concluded that medicinal cupping therapy did in fact, relieve symptoms associated with fibromyalgia.
Why Does Cupping can help reduce Fibromyalgia?
The Bellabaci Cupping system allows effective home treatment. Our Bellabaci cups are also used and recommended by therapists worldwide. Maintenance treatments at home add a lot of value to the relief felt and results achieved.
The negative pressure from the cup and massage technique assists to produce the natural cortisone. This helps to relieve inflammation and pain. Clients immediately feel "released" and more positive after cupping therapy. This is partly due to the increased Serotonin (happy hormone) levels from improved blood circulation to the brain.
You are not alone, even Celebrities are using Cupping for Fibromyalgia!
Lena Dunham has revealed that she suffers from fibromyalgia, a long-term condition that causes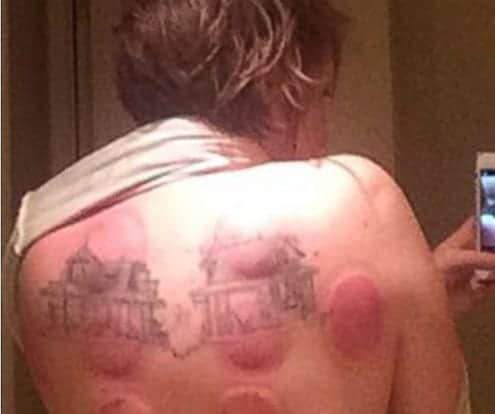 pain all over the body. She outlined how she experienced a bout of chronic pain after watching Dr. Christine Blasey Ford speak in front of the Senate Judiciary Committee about the alleged sexual assault that she had experienced.
"On the day after Dr. Ford's testimony, I awoke with a start at 3 am. It felt like every cell in my neck was singing," Dunham wrote. "My ankles and wrists were weak and my fingers didn't do their assigned job. "Yesterday I felt like I was suspended in a gel, and when I meditated a line of pain zipped from my neck to my foot."
One in 25 people may be affected by fibromyalgia, as stated by Arthritis Research UK. That same month, Lady Gaga had to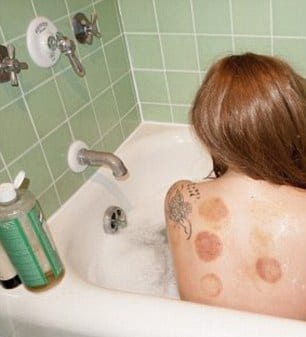 cancel a concert in Brazil due to being hospitalised for severe chronic pain that she was experiencing.
"I was taken to the hospital. It's not simply hip pain or wear and tear from tour, I'm in severe pain. I'm in good hands with the very best doctors," she tweeted at the time.
In February this year, Dunham revealed that she'd underwent a full hysterectomy in an attempt to stop the chronic pain caused by her endometriosis.
Bellabaci Hello Body Mechanic Kit
If you are suffering from fibromyalgia and searching for a natural alternative to relieve your pain without the side effects of prescription medications? This Bellabaci 3-step kit is the ideal option for you!
Get rid of pain and heal your body from the root cause with this simple to use powerful kit. No pills needed! Use the cups in conjunction with The Hello Body Mechanic, a formula packed with specialized ingredients for pain relief. Squeeze the cup and set it down on well-lubricated skin. Begin by massaging the area in circular motions for a maximum of 10 minutes per day.