Get ready to bare your legs confidently with our 5 Steps to Spider Vein Free Legs! No amount of tanning can really hide them well, so why not just get rid of them all together? The best news is that you can do it yourself, in the comfort of your own home!
Spider Veins can occur between the ages of 30 to 50 years of age, may be due to injury, pregnancy or prolonged sitting or standing. Whatever the cause, the treatments that existed to address them included laser or injections that have to be performed by a doctor. These treatments are as costly as they may be painful and repeat procedures may be prescribed.
What is the solution to getting rid of Spider Veins? It's so simple!
Isn't it just magic that you can treat unsightly spider veins with your Bellabaci Circuflow Kit? The combination of a super-charged micro-circulation from The Kese Mitt, Homeopathic and Aromatic synergies in your Circuflow Genie  and the negative pressure of the Bellabaci Body Cups forces fresh blood and oxygen through the veins. This process removes old, deoxygenated blood while you lightly glide  the cup over in either zigzag or circular motions. It also works as a preventative measure, by removing any excess fluid exerting pressure which contributes to the development of Spider Veins. Remember to always work towards the heart, draining from your ankles to your knees, knees to groin etc.

Just follow these 5 steps to spider vein free legs!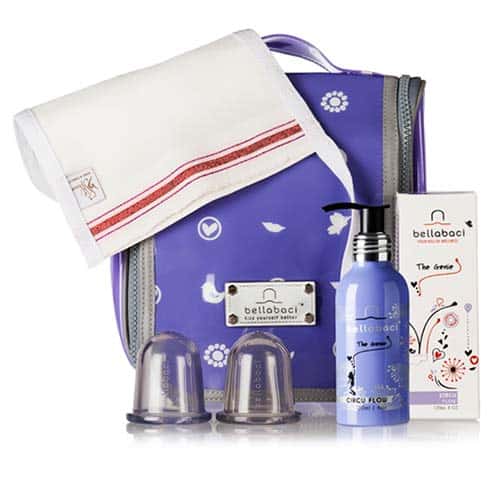 Step 1– Exfoliate in circular motions with your Kese Mitt after bathing or showering and rinse and dry off.
Step 2– Apply your Circuflow Genie and grab your soft Bellabaci Body cup. Lightly squeeze it  to create the vacuum before you set it down on your leg
Step 3- Glide over the spider veins using zigzag or circular motions, start at the bottom and work your way up
Step 4- Repeat if necessary. Immediately you will notice that the color of the vein will change from blue to red before it vanishes. This is a good sign as this indicates that the deoxygenated blood is being removed.
Step 5– Drain your lymphatic system to increase circulation by gliding the cup from your ankles to your knees, and knees to groin to remove any fluid build-up that may have been a cause to prevent future spider veins.
PS: Varicose Veins  are a contra-indication, although you can use your soft cup to lightly massage next to the vein (never over it!) to remove the fluid build-up which is exerting pressure on the vein. Always drain upwards, towards the heart. This does not replace any medical treatment or medication you may be prescribed by your doctor and always let your doctor know before adding any complimentary treatments. You can also safely use The Circuflow Genie oil-lotion on its own to assist in the treatment of Varicose veins.
| | | |
| --- | --- | --- |
| | | |
| Bellabaci Cupping for Spider Veins | | |
Need to get your Bellabaci Products? Get free shipping by clicking HERE!
Happy Cupping!