Have you tried home cupping for your face or body?
It is the perfect treatment to achieve cellular detoxification and address concerns such as:
✓ Poor Circulation
✓ Cellulite
✓ Muscle Spasms 
✓ Aches and Pains
✓ Stretch Marks 
✓ Headaches and Migraines
✓ Wrinkles and Loss of Collagen
Founded by Keren Trabelsi, the system came to life after Keren experienced stationary cupping to relieve a debilitating form of sciatica during the pregnancy of her little girl. Being an Aromatherapist and high-end spa owner, she faced her therapists on a daily basis who suffered from repetitive strain injuries and back pain caused by performing many hours of massage. 
This gave birth to the idea to bring cupping into the spa world to give therapists a tool that does the work and provides extra physiological benefits for the clients that could not be achieved by using hands alone. Spas are using the Bellabaci™ cups to perform myofascial release and decompression therapy. It can also be used as an alternative to hot stone massage and can compliment any other treatment provided by the spa.
The Bellabaci™ Cupping Massage System focuses on movement cupping that provides a holistic treatment to drain the full area of toxins that is the causative factor in so many conditions, whether cosmetic or wellness related.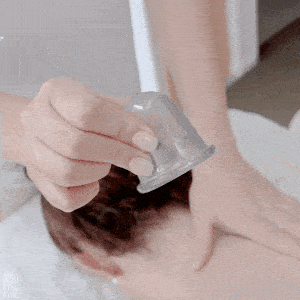 Bellabaci™ International is the original creator of the hand-squeezable cupping massage system, used by spas around the globe. Our cups are available in various strengths and sizes to treat the body from the outside in. The Bellabaci™ cups can be utilized for stationary cupping as well. By just squeezing the cup, you can achieve the desired depth of treatment. 
Gliding the cups by following the Bellabaci™ sequence, no cup marks are left behind, which we refer to as "cup kisses". These are not a bruise, but a glance into the body's toxin accumulation. Cup kisses should rather be seen as a diagnostic tool as a healthy area will not render a mark. Cup kisses should dissipate within a few days and is not painful at all.
The Bellabaci™ Cupping massage home care system offers a 3 Step Ritual that you can use in the comfort of your own home. Cup your legs, neck or face when watching your favourite series or while having a luxurious bath!
For best results, use the Bellabaci Cups in conjunction with the Genie in a bottle wellness massage oils.