Beauty rituals are more than just the physical; it encompasses every facet of our being – mind, body and spirit. 
In a beauty smackdown between needles and natural remedies, which would win? While Botox, Face-fillers and surgical options do offer an immediate transformation they are costly, lengthy and may cause a multitude of long term damages. Natural remedies, on the other hand, target inner health and outer beauty so you can feel beautiful inside and out. Below are a few simple beauty rituals that will make you look and feel beautiful too. 

Body Mitts for skin polishing beauty rituals
The key to younger-looking skin is to increase circulation in the body and accelerate cellular renewal by regularly removing dry, dead skin. 
The Bellabaci natural Kesse Mitt and Copper Mitt are gentle enough to use on dry or sensitive skin and offer a seamless exfoliation with the help of natural fibers and pure copper threads. After use, your skin appears smoother and more radiant.
The Copper Glow Body Mitt combines superb natural fibers and pure 20% copper threads for a 100% seamless and super smooth exfoliation. 
It can be used with or without cleansing gel in the shower or used as a dry polish as part of your beauty rituals. 
Waterless makeup Remover for deep cleansing beauty rituals
Remove makeup and deep cleanse your skin without added chemical or soap with the miracle Deep Cleanse-Pro Facial Mitt. This soft, fiber mitt gently removes dirt and debris from the skin leaving you with a radiant glow. 
Facial Cupping for anti-ageing beauty rituals
Facial Cupping is a worldwide trend in reducing the visible signs of ageing. Cupping massage increases blood flow which boosts collagen formation leading to diminished wrinkles and a fuller more youthful appearance.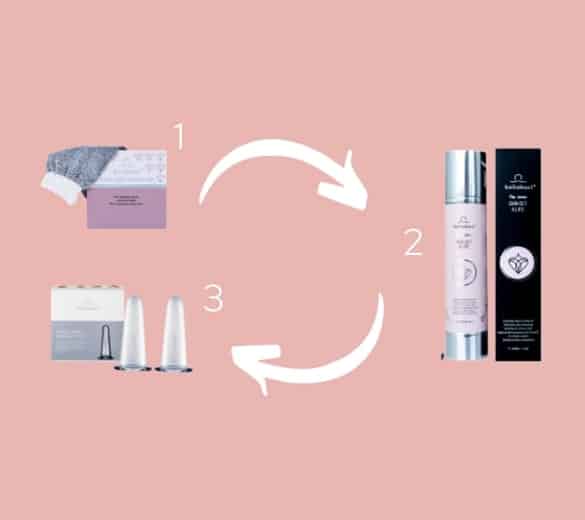 Facial Cupping can also be an effective treatment for broken capillaries by relieving stagnation and bringing fresh blood and oxygen to the face. 
Other benefits include: 
Diminishing fine lines

Relieving sinus problems

Aiding elasticity and firmness

Increasing blood circulation and congestion 
Try the Bellabaci SKIN GET A LIFE Wellness Ritual Kit – the perfect trio to enhancing beautiful wellness. 
What is Cupping Massage Therapy?
The Bellabaci massage system has modernized traditional cupping therapy into everyday therapy. The Cups are moved all the time, along the main meridians and therefore avoid unsightly cup marks usually associated with cupping. 
Bellabaci Facial Ritual Kits offer a three-in-one treatment for your beauty rituals
With every Bellabaci Facial Ritual Kit, you receive one 120ml Genie wellness oil, one set of Facial Cups and a skin Polishing Mitt.  
When used together you can easily and effectively fight the following irritations: 
STRESS NO MORE Genie is formulated for stressed and dehydrated skin. Packed with an all-natural blend of St Johns' Wort, Ylang Ylang, Jasmine and Rosehip oils to give your skin a comforting wellness boost.
SKIN GET A LIFE Genie, offers a luxurious wellness oil to target fine lines and wrinkles for soft, smooth skin.
CIRCU FLOW Genie, will boost circulation and address fragile skin capillaries for a radiant glow.

Dual-action Cremes with benefits 
Bellabaci has recently launched SOUL FOOD, the new dual-action cremes with benefits for urban women. SOUL FOOD offers intense nourishment for your skin beauty rituals while targeting your emotional wellbeing. 
Introducing wild-harvested essential oils into your skincare regime can be the simplest way to start your journey towards inner health and outer beauty. 
Try our SOUL FOOD Starter Pack including 5 delectable 50ml cremes that target holistic wellness. Products include INNER-PEACE, FIRM-A-CELL, ENERGIZE-ME, HURT-LESS and QUENCH.