Your skin can only be as good as the products you use. Great ingredients, effective solutions and an understanding of what benefits the skin are all important factors to ensure your skin ages well with the least amount of negative elements that can harm and degenerate skin cells.
Why good skin care is so important:
It helps to keep your skin in great condition – Your skin never stops working. It sheds skin cells, perspires, produces oil and is exposed to pollution and makeup that may clog your pores and create skin congestion.
Your skin will benefit more from your treatment products – Proper cleansing will help to promote the ingredient penetration of your active treatment products. This will improve moisture levels and contribute to radiant skin.
You will slow the skin ageing process – Regular exfoliation will help your skin cell turnover which slows down as we grow older. This action is also very important to increase lymphatic drainage and the prevention of fluid build-up that causes eye bags and puffy skin.
Correction is not as easy as prevention – Preventing skin damage from skin congestion is easier than trying to fix it, and is also much less costly.
Clear skin improves your self-image – Skin congestion is one of the major causes of poor self-esteem in teenagers, as well as adults. Introducing an effective, yet gentle skin care regime from the pre-teen age is recommended. 
Which skin care methods are important for clear skin?
Make-up removal – Never go to bed wearing makeup. This is a major contributing factor to skin congestion. Your skin needs to rest and repair at night so do ensure to remove any makeup before going to bed.
Exfoliation – This is a proven and effective method to clean the pores from debris and excess oil. Exfoliation is recommended 2-3 times per week, preferably at night after cleansing with a gentle cleansing gel.
Moisturise – It is very important to replenish skin hydration after cleansing. We recommend to have your skin assessed by a qualified aesthetician to ensure the correct product is chosen for your unique needs.
Sunscreen – Daily use of a broadspectrum sunscreen, not higher than an SPF30, is recommended even if it is cloudy. This is a very important step to prevent hyperpigmentation and uneven skin tone. Ensure to reapply during the day as perspiration can decrease the effects of the sunscreen ingredients.
Why you should consider using professional skin care 
Skin care products off the shelf that is not recommended by a qualified therapist may cause more harm than good. Although the price points may be tempting, the quality of the ingredients in these products cannot compare to that of a professional range. Most aestheticians offer a free consultation where your skin can be assessed to ensure that you do not purchase unnecessary or ineffective products for your specific skin type. 
Treat your skin to a simple and effective cleansing regime using the Bellabaci Super-Cleanse Trio. Follow with your recommended Genie in a Bottle and pair it up with our facial cupping massage system to provide benefits such as skin lifting, radiance, improved circulation and skin tone.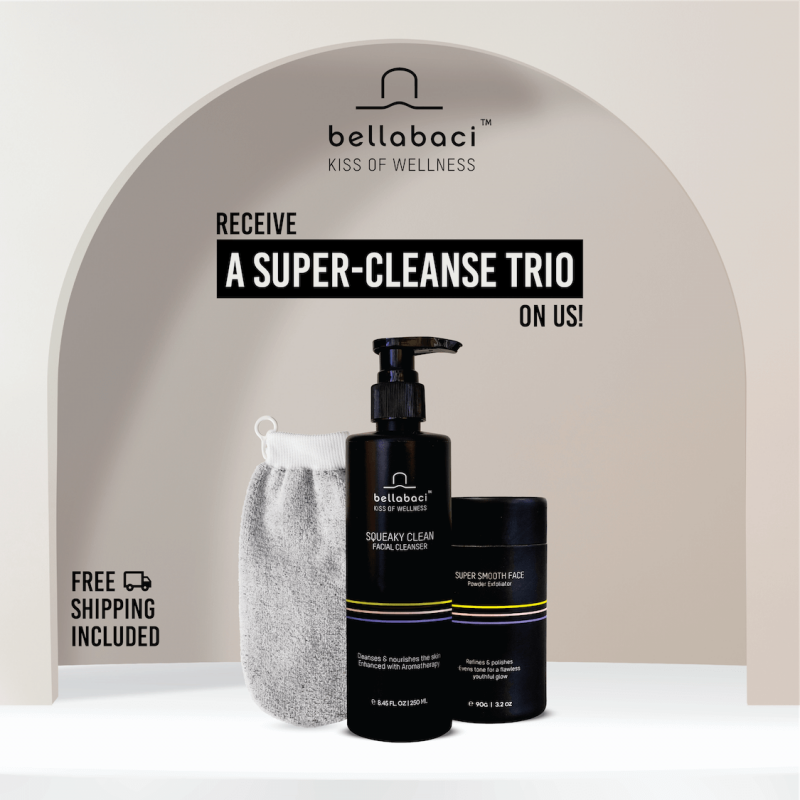 Receive a FULL-SIZED Super Cleanse Trio with the purchase of any Bellabaci products to the value of R1999 or more. This Trio will create the satin-smooth and glowing skin you deserve using the best from Mother Nature.
Start Shopping