What a great response we had after posting the video to our facial cupping demonstration. Thank you for all the positive comments and emails! I hope everyone is feeling more confident to include this wonderful therapy into your facials. Our video tutorial for cupping massage on the back is live. Pain relief treatments will never be the same!
FYI – Did you know that Bellabaci International is the creator and leader in the hand-squeezable cupping massage system for face and body? Our system is used around the globe in from 5 star spas and resorts to medical practices who focus on alternative health care and holistic wellness.
Since the launch in 2007, we are currently exporting to more than 25 countries, with Switzerland, USA and The Netherlands, being our largest distribution channels.
Knowledge is power!
We are all about education and training. For this reason we are working hard to help you make cupping massage a daily practice for your clients and yourself.
Have you implemented our Add On Menu to upgrade your treatments?
The Bellabaci Add On Menu is sporting a fresh new look. It serves as a great tool to offer short wellness treatments for your clients. Suggest the Headache and Migraine relief treatment with your next massage. It is an easy but effective addition to any pain relief massage.
The cups can treat from superficial to the deep tissue layers. Best of all is that the negative pressure allows your wrists a break from exertion.
Bonus benefits of Cupping Massage
My favorite benefit that cupping offers is the increase in product penetration. That means that your chosen ingredients will be accepted by the tissues in its full, intended dosage. This fact makes the treatment so much more than just a massage. Most importantly, it helps your clients achieve faster results.
The Bellabaci Genie in a bottle Massage oils are now available in a convenient 500ml  and 1 liter liquid formula for professional use. We use fractionated Coconut Oil as our carrier of choice.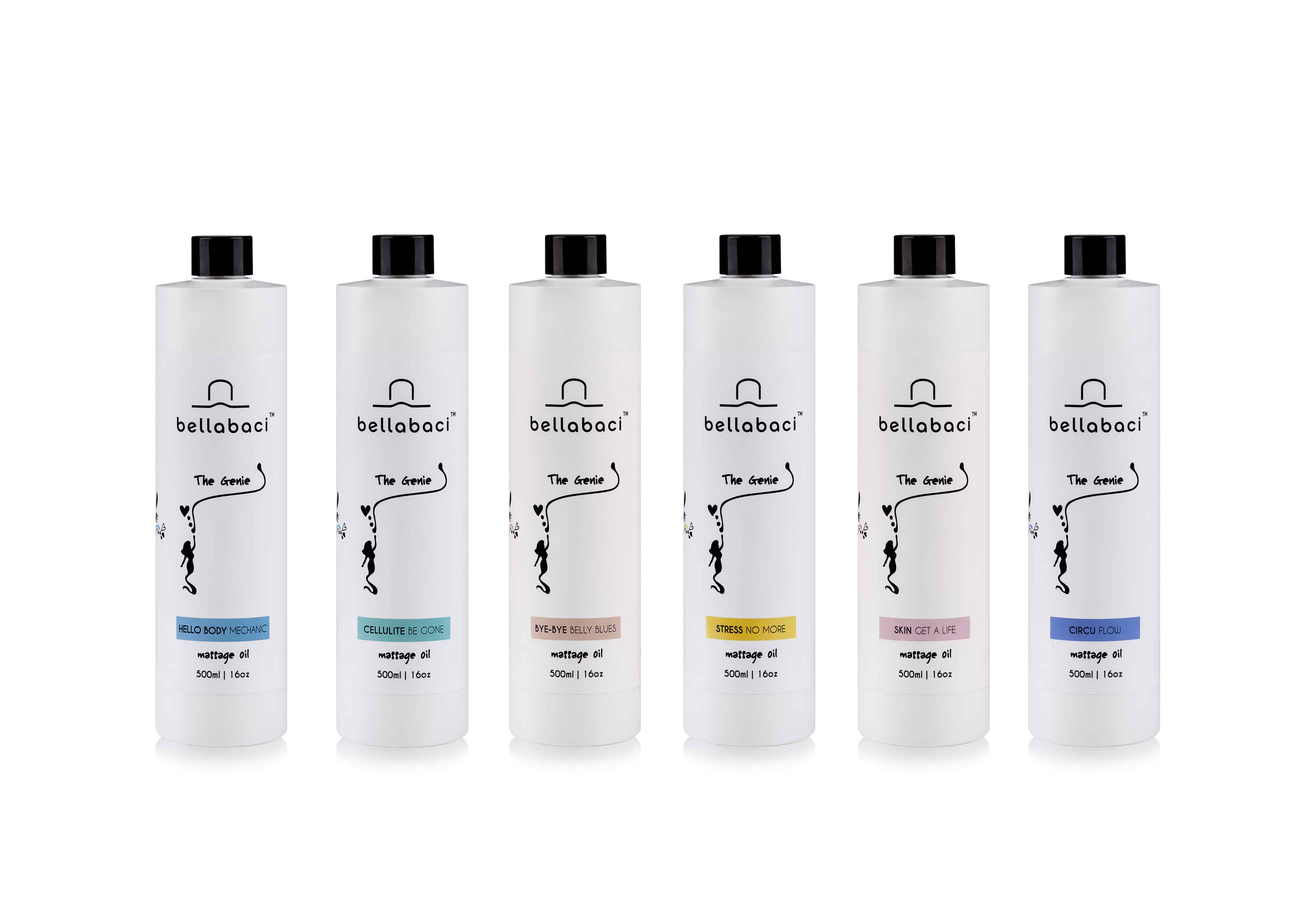 Our no-mess formulas are great for home use. Clients find liquid oils difficult to work with and its messy. The Genie range of natural remedy oils don't stain or become rancid. Our formulas combine a wonderfully active bouquet of energetic signatures, choice Aromatherapy and indigenous African Oils.
Why should you choose the Bellabaci Genie in a Bottle Massage Oils?
The Genies were created to bring a solution for the 6 main reasons why a clients visits the spa or clinic. These oils can also be used to compliment and support natural wellness. Did you know that our products can be combined with any other cosmetic range? Just ensure that our Genie oils are used as the final layer application. Do add the cups for a double, professional treatment.
Cupping massage benefits are cumulative. It is like exercise to the body. The more regular treatments in spa and at home are, the better the results will become.
This video tutorial for cupping massage on the back will help you for a quick refresher to our sequence. Do ensure to download it!
Watch our video tutorial for cupping massage on the back:
Have a question? Drop us a mail HERE