Essential oils are absorbed faster through the soles of your feet. The soles of your feet literally has larger pores and when essential oils are applied it enters the bloodstream immediately. It just takes 20minutes for essential oils to be absorbed by every cell of your body through your feet.
The lack of oil glands on your palms and foot soles contributes to the absorption rate as oil will block penetration.
Your nervous system lines run down directly into the feet, that is a whopping average of 14,200 nerve endings for one pair of feet! The essential oils can then immediately enter the nervous system for their respective calming, relaxing or uplifting qualities and to balance the nervous system.
The Bellabaci Pure Essential Complexes is a range of unique therapeutic synergies, formulated to address not only beauty, but also your health and wellness.
These complexes were created with Aromeopathy, to bring forth a tangible result for all who use these as a pulse-point treatment or as an additive to your carrier oil for their respective therapeutic qualities. 
Aromeopathy  is the unique combination of essential oils and homeopathic extracts which synergises to create powerful, natural pure energy treatment complexes that enhance & rebalance health and well-being. 
Have you tried one of our 5 Pure Essential Complexes?  This is what they offer:
Detox 
A spectacular blend of African detoxifying and regenerating oils such as Moringa, Marula, Buchu, Coriander, Orange and Mandarin to treat the body holistically to address cellulite and stagnation.
Muscle Support
A special blend formulated to soothe and repair. Relieve discomfort with the powerful properties of Katafray, Litsea Cubeba, Peppermint, Wintergreen , Lavender and Lemon Eucalyptus. 
Renew
Superior ingredients, hand-selected to provide restoration and resilience to ageing skin. Address wrinkles, stretch marks and scarring with the properties of Rosehip, Argan, Baobab, Neroli and Silica as well as vitamins and antioxidants to offer skin cell strengthening results for the face and body.
Revive
Feel the energy with this exceptional complex of revitalising and energising aromatic oils and herbal extracts such as Cape Chestnut, Butcher's Broom, St John's Wort, Cypress and Juniper Berry. Assists with vitality, circulation and fatigue to restore physical and mental endurance in the work place and at home. 
Deep Relax
Designed to naturally uplift the emotions and lend a natural hand to troublesome sleeping patterns and the effects of stress. Stimulate your senses with the aromatherapeutic  qualities of St John's Wort, Ylang Ylang, Geranium, Lime, Patchouli and Jasmine essential oil. 
How to use The Bellabaci Pure Essential Complexes: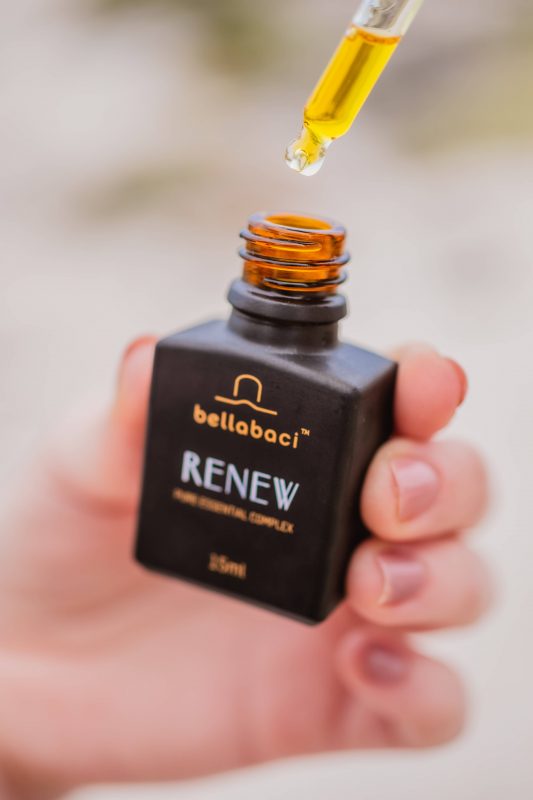 ​• ​Add 2 drops to supercharge your Genie or moisturiser
​• ​Add 2-5 drops to your bath
​•​ Use as a pulse point treatment by applying 1 drop to your wrists
​•​ Use as a natural perfume (preferably where it won't be exposed to the sun)
​•​ Add 2-5 drops to your humidifier or diffuser
​•​ Add a drop to a tissue and inhale
All Bellabaci Products contain the finest quality vegan and cruelty-free, natural ingredients sourced worldwide, free from any chemical pesticides & herbicides. All products contain professional strength active ingredients with no added preservatives, parabens, colourants, preservatives, artificial fragrances or mineral oil.
Become a stockist by signing up for our wholesale platform HERE.